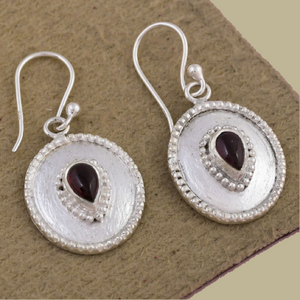 Cabochon Shield Earring
These sterling silver earrings draw inspiration from ancient civilizations, where shields symbolized protection and power. Each earring showcases a delicate cabochon gemstone, set on a silver oval that resembles an ancient shield. 
The granulated border surrounding the gemstone is a nod to the craftsmanship of ancient jewellery, giving the earrings a distinct, antique feel.
Measuring 3.2cm in length (including the hook) and 1.5cm in width.

Gemstone Options: 
Labradorite: Renowned for its mystical play of colors, Labradorite shimmers with hues of blue, green, and purple, resembling the enchanting dance of the Northern Lights.

Garnet: Symbolic of passion and vitality, Garnet's deep red hues evoke the warmth of an enduring flame. It radiates an intense energy that's sure to make a statement.

Rose Quartz: Symbolizing love and compassion, Rose Quartz exudes gentle pink tones that evoke feelings of tenderness and warmth.