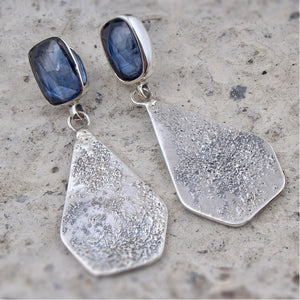 Jewelled Pentagon Earring
A blend of geometric elegance and natural beauty. These sterling silver earrings measure 4cm in length and 1.8cm in width.
They feature a rectangular faceted gemstone and a hammered and slightly oxidized pentagon that hangs gracefully from the base of the stone and creates an elegant interplay of shapes and textures.

Gemstone Options:
Garnet: Symbolizing passion and vitality, Garnet's deep red hues evoke the warmth of the earth. It radiates a fiery energy that is sure to capture attention and admiration.

Moonstone: Moonstone's milky iridescence reflects the serene beauty of moonlight on a calm night. Its gentle shimmer invokes tranquility and a sense of wonder.

Kyanite: Known for its striking blue tones, Kyanite exudes a sense of calm and clarity. Its tranquil colors mirror the serene beauty of a clear sky.