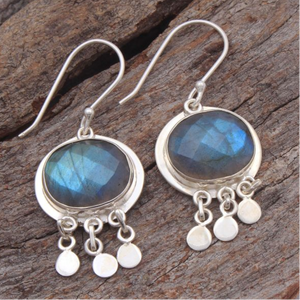 The faceted deity earring
At 4cm in length and 2cm in width, these earrings strike the perfect balance between dainty and impactful. The captivating focal point is a mesmerizing faceted gemstone. You have the choice of three stones: Carnelian, Labradorite, or Moonstone. Each gemstone is hand-selected for its unique beauty. 
Dangling delicately from the base of each gemstone are three tiny silver discs, adding a touch of whimsy and movement to these earrings. The discs catch the light as you move, creating a subtle yet mesmerizing play of sparkle.

Gemstone Options:
Carnelian: Radiating warmth and energy, Carnelian is a fiery gemstone that embodies passion and vitality. Its deep orange and red tones exude a sense of confidence and strength.

Labradorite: Known for its iridescent play of colours, Labradorite exudes an otherworldly allure. As light dances across its surface, you'll be enchanted by the ever-changing hues of blues, greens, and purples that seem to shimmer from within.

Moonstone: The embodiment of celestial beauty, Moonstone glows with an ethereal, milky sheen. Its subtle and serene colors are reminiscent of moonlight on a tranquil night.